China Glaze – Goin' My Way?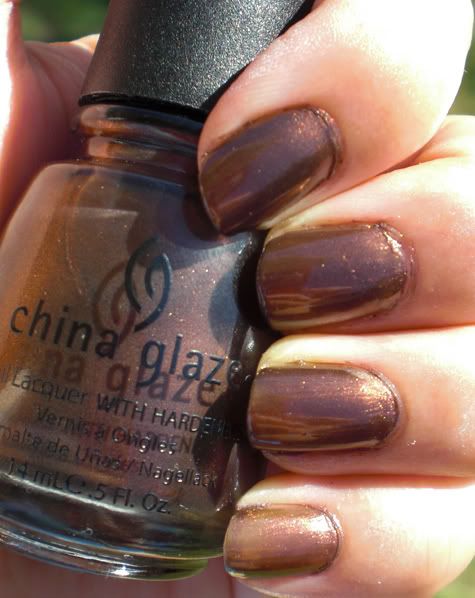 I've been waiting forever to get my hands on polishes from the new China Glaze Vintage Vixen collection.
-
Price
-
I don't remember exactly what I paid for this bottle because I was just so excited to get my hands on it. If I had to guess I would say $6 something.
-
Quantity & Quality
-
Goin' My Way? is the usual high quality China Glaze product that I love in the regular sized .5 fl. oz. bottle.
-
Drying Time & Durability
-
Dries quickly after a few coats to obtain bottle color. With a good top coat I'm able to wear it for nearly a week. I'm very hard on my nails so this is a great thing.
-
Color
-
I usually don't wear browns well but with this polish you're always in for a surprise. It changes colors in various levels of light so you're treated to everything from light to dark.
-
Purchasing
-
Available at online retailers and at Kali's Nail Supply.
-
Overall
-
I would purchase this again in no time. It's such a beautiful and complex color that you could wear with a variety of things.
-
Final Grade
-
5/5
Keep it colorful! =]
Kiwiliqueur